What are the odds of getting a knife from any CSGO case? How many loot boxes do I have to open to obtain the item I need? We're sure, these questions have been asked by every Counter-Strike player who is interested in collecting skins.
The developers of the game keep secret the algorithms behind in-game items drops. Players only know that melee weapons are extremely rare in cases. To receive a knife, valuable skins hunters even use special services that allow them to look inside loot boxes before opening.
However, what should players do if they want to know the percentage chance of getting a knife? Thanks to the peculiarities of strict Chinese laws, they have this unique opportunity! Read the post for more details.
What are the chances of getting a knife in CSGO?
According to Chinese law, game developers are forced to disclose information about the drop rate of items from loot boxes. If we take Counter-Strike, then opening its cases is really like a lottery. You never know how likely you are to get one item or another.
In this situation, Valve had no choice but to follow the requirements of the PRC law. The relevant information was published on the Chinese version of the official CSGO website. As per this data, 10% of the skins that are stored in cases support the StatTrak technology.
As for the chance of getting a Special Item, it's only 0.26%. Both gloves and knives belong to this category. It's easy to calculate that the drop rate of melee weapons with StatTrak technology is 0.026%. No wonder that some bayonets or karambits cost hundreds and thousands of dollars.
The honorable second place in our rarity rating is occupied by the Covert items. Their drop rate doesn't exceed 0.64%. Next, we have the Classified and Restricted weapons (3.20 and 15.98% respectively). The Mil-spec loot has the highest chance of dropping: 79.92%.
| Item Type | Color | Chance to Get |
| --- | --- | --- |
| Special Item | Yellow | 0.26% |
| Covert | Red | 0.64% |
| Classified | Pink | 3.20% |
| Restricted | Purple | 15.98% |
| Mil-spec | Blue | 79.92% |
It's interesting that some streamers and owners of YouTube channels got similar results. To calculate the drop rate, they did something like "knife unboxing". They took an impressive number of cases and opened them one by one.
The results of such experiments largely depended on luck. While for some players the drop rate didn't exceed 0.15%, for others it reached 0.5%. In general, it was experimentally established that in order to obtain a knife, you'll have to open 50 cases.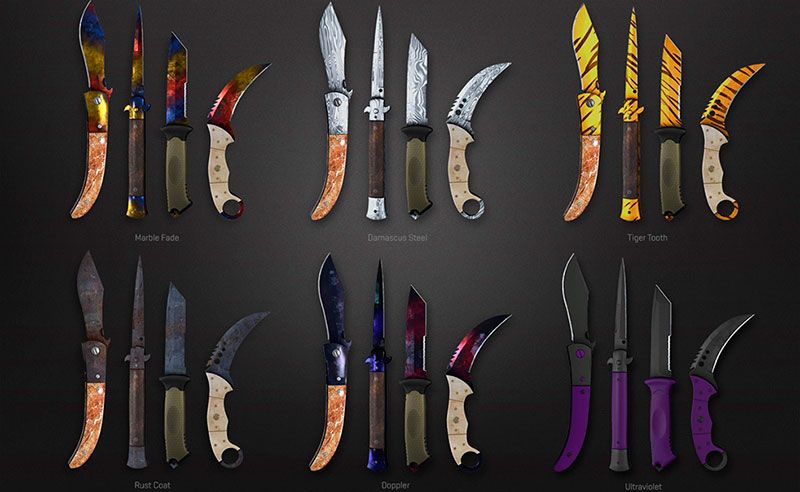 Strict legislation that regulates the distribution of loot boxes isn't unique to China. Crates are also considered a form of gambling in Belgium. Players from this country can't open CSGO cases. The same applies to the Netherlands.
In some countries, Valve managed to circumvent legal prohibitions. For example, the so-called P250 X-Ray scanner was developed specifically for French players. This technology allows gamers to scan cases and find out what skins are stored inside them.
It may seem that the P250 X-ray scanner greatly increases your csgo knife chances. But in reality, this is just a way to avoid legal problems. Opening cases is still something like a lottery.
FAQ
How to increase your chances of getting a knife in CSGO?
You can use special online scanners or similar tools. Allegedly, they help to increase the chances of getting the desired items. But we recommend buying knives or using standard Counter-Strike cases and relying on Lady Luck.
After the purchase, you get a knife with a 99% percentage probability. Why not 100%? We reserve that 1% for simple fraud or trading platform errors. The main advantage of standard cases is that you have a chance to get an expensive knife at a bargain price.
How much does it cost to get a knife in CSGO?
The drop rate of knives is 0.26%. The probability of getting it is approximately 1:385 (100 / 0.26). That means you need to buy 385 cases. The standard price of one loot box is 2 $. So, that leaves us with 770 $. You must also purchase the keys. Their base price is 2.5 $. 385 keys will cost you almost 963 $ (2.5 * 385). As a result, 770 + 963 = 1733 $. This amount may go up or down.
On
PLG.BET
, you can
play the best CSGO gambling games
for skins and real money. We guarantee fast withdrawal of funds and provably fair results for each gambler in every round of any game. The chance of getting a big win in our casino is much higher than the drop rate of Counter-Strike knives. Try your luck right now and hit the big jackpot!