What is a CS:GO Trade Up Contract?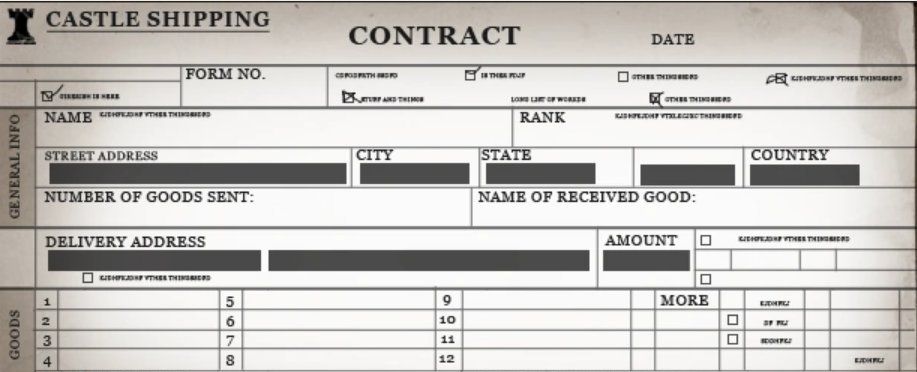 Trade Up Contracts are used to exchange exactly ten skins that have identical quality for one higher-tier war tool. This feature was developed for game fans who want to get rid of their unnecessary items and replenish their weapon collections with more valuable stuff. It's a way to encourage collectors and active players with a huge number of skins from weekly drops and other events.
The process of concluding and executing a Trade Up Contract is very simple and fast. To use this game mechanic, you must choose weapons to exchange and then confirm your intentions. A couple of seconds, and a new skin with a higher rarity is yours. The items provided under the contract differ depending on the source war tools.
How does CS:GO skin trading work?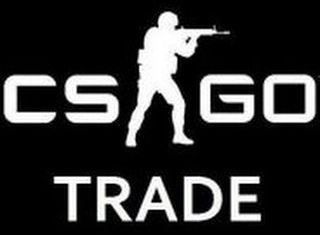 You can find tons of various skins in Counter-Strike: Global Offensive. These items don't provide any benefits to players and don't upgrade any weapons. Basically, they were added to the game to diversify the gameplay and support the development of CS.
In the gaming world, it has long become a normal practice for players to do trade ups, buy different items, etc. When gamers purchase some in-game stuff, developers earn money to improve their projects. So, the addition of skins to CS:GO was a natural step in the development of this mega-popular game.
In Counter-Strike: Global Offensive, you can both buy skins and get them for free. For example, you'll be given an item if you gain 5000 experience points and increase your rank within a week. Most players obtain finishes in this way.
Players can also trade their weapon skins on special sites like the Steam Community Market. It's possible to buy or sell items there without intermediaries. However, direct transactions between gamers often end in a scam. Be careful when you make a deal directly with other gamers.
Skins are divided into different collections and their prices depend on numerous factors. The most prominent examples are the rarity and the float value. The smaller the second characteristic, the better. If we take Factory New skins that have the best floats, they usually cost much more than other items. The price of these finishes sometimes reaches tens of thousands of dollars!
Thus, CS trade ups performed by signing in-game contracts are just one of the ways to obtain skins. Whether it will be paid or free depends on how you got your source items. When you buy them and transform them into new weapons, you pay for the process. Or, your collection can be replenished with war tools of higher quality, which you won't pay a dime for.
What skins can I trade?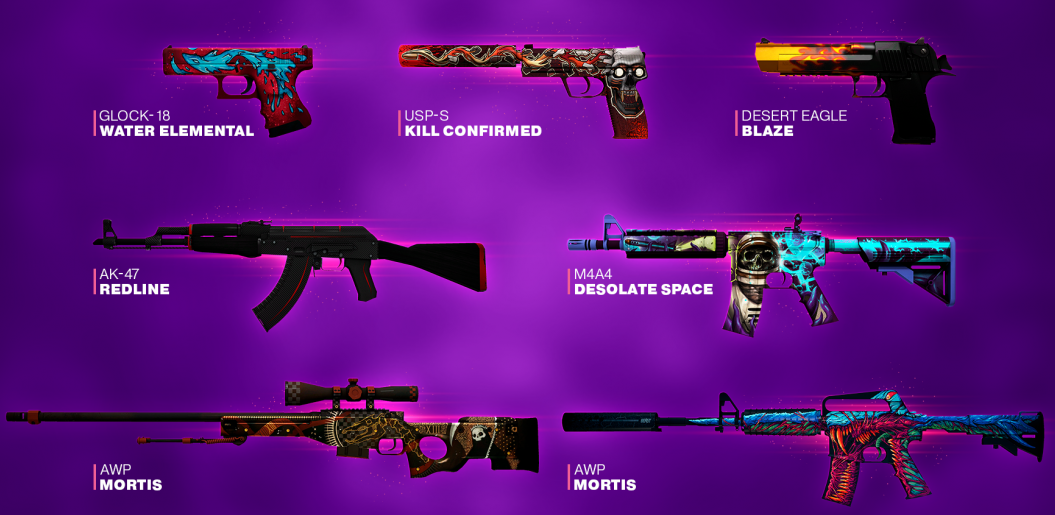 Starting from this section and until the end of the post, we'll talk about Trade Up Contracts. If you need to understand the basics of trading CS:GO items between players, visit this page. Ok, let's find out what weapon skins you can exchange for items with the next highest quality. To do this, you must consider two factors: weapon grade and condition.
Weapon grade (rarity, quality)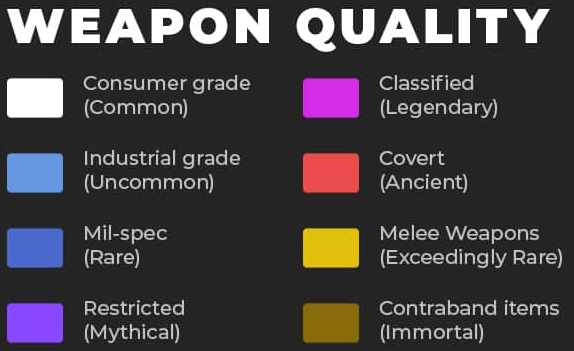 Every Trade Up Contract implies that only five types of skins can be used in crafting: Industrial Grade, Mil-Spec, Restricted, Classified, and Covert. These items indicate rarity and differ in color. For example, Mil-Spec is navy blue and Covert is red.
The main question that worries most players is the following: what kind of outcome skin will I get after completing the Trade Up Contract? It depends on the weapons which you withdraw from your collection and send for "melting." Let's take a closer look:
Source Skins (Industrial Grade, Factory New)
Potential Resulting Skins
AK-47 Baroque Purple

Dual Berettas Emerald.
G3SG1 Violet Murano.
P90 Baroque Red.
SSG 08 Orange Filigree.

AUG Condemned

Five-SeveN Silver Quartz.
FAMAS Teardown.
SSG 08 Acid Fade.

5 pieces of AK-47 Baroque Purple + 5 pieces of AUG Condemned

Dual Berettas Emerald.
G3SG1 Violet Murano.
P90 Baroque Red.
SSG 08 Orange Filigree.
Five-SeveN Silver Quartz.
FAMAS Teardown.
SSG 08 Acid Fade.
In the table above, all of the resulting skins have the Mil-Spec weapon grade and the Factory New condition. The latter will be discussed in detail in the next subsection.
Say you conclude some Trade Up Contract and use 10 AK-47 Baroque Purple weapon skins. They all have the same quality and rarity: Factory New and Industrial Grade. Your possible reward is one of these four: Dual Berettas Emerald, G3SG1 Violet Murano, P90 Baroque Red, and SSG 08 Orange Filigree.
Upon completion of the Trade Up Contract, the probability of obtaining one of these outcome skins is 25%. They're all Mil-Spec because it's the next level of quality after Industrial Grade. Each weapon skin condition is Factory New.
The AK-47 Baroque Purple belongs to The Canals Collection. Since we took 10 identical skins, the outcome will be from the same collection as they are. It has four Mil-Spec war tools. We listed them in the table.
Similarly, we found weapon grade and condition for the AUG Condemned. Its outcome finish has the Mil-Spec rarity and belongs to the Safehouse Collection. As a reward weapon skin, you can get the FAMAS Teardown, SSG 08 Acid Fade or Five-SeveN Silver Quartz.
The probability that one of the war tools listed above will be in your inventory is 33.33%. You can't predict in advance what weapon will be added to your arsenal. The game algorithms choose the reward skin in a completely random way.
As for the last Trade Up Contract, it's somewhat more complicated. Let's say five pieces of AK-47 Baroque Purple is Group I and five pieces of AUG Condemned is Group II. We have two types of input skins here with an equal chance of getting them (50 %).
In a multiple-choice situation, the game will pick Group I or Group II first. Let it be Group II. Then a skin of the appropriate quality will be chosen. This is approximately how contracts work when you need to "smelt" weapons from two or more collections.
💡
Consumer Grade skins aren't allowed for Trade Up Contracts. This applies equally to knives and souvenir or contraband weapons. Finally, you can't craft a skin from Normal or StatTrak war tools. You must choose finishes of the same type.
Weapon skin condition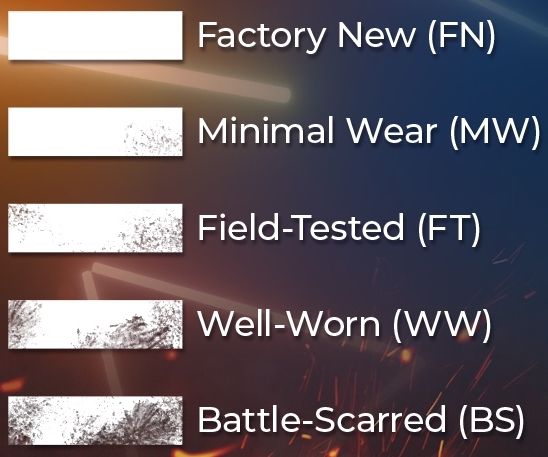 It's time to learn about the second important factor that should be considered when you conclude a Trade Up Contract. The weapon skin condition or float value is a number between 0 and 1. This characteristic indicates the wear level of war tools.
The smaller the float value, the more expensive the weapon usually is. For the sake of brevity, players often use one word to refer to this characteristic: float. When concluding a Trade Up Contract, it's calculated according to an exact formula, which you can find below:
Suppose that we want to conclude a Trade Up Contract for "remelting" 10 pieces of AK-47 Baroque Purple. All assault rifles have the same float value: 0.001. As a result, we'll be rewarded with one of the skins that have the following floats:
Skin
Float
Dual Berettas Emerald
0.00008
G3SG1 Violet Murano
0.0005
P90 Baroque Red
SSG 08 Orange Filigree
💡
It's worth knowing that the Trade Up Contract used to be called the Arms Deal Contract. This name is usually found in old articles about CS:GO game mechanics.

Sometimes the term Default Contract is also used. This is the same as the Arms Deal Contract or trade up feature, which we're discussing in this post.
How to trade CS:GO skins?
Go to your inventory with skins.

Right click on one skin you want to trade. Select Use With Trade Up Contract from the drop-down list.

Repeat the process described in step 2 nine more times. Select skins with the same weapon grade.

Click the Proceed button.

Sign and submit your contract.

Wait for your contract approval.

Get a new item.
The process of exchanging weapons takes 1-3 minutes on average. The developers made it as simple as possible. If you just want to exchange your unnecessary skins for a more valuable weapon, "remelting" it won't require serious mental effort from you.
When you seek to maximize your profit from the exchange, you'll have to spend some time on this process. First of all, you need to choose the right items based on their rarity and float values. It's quite difficult without any experience.
You must find skins that are in demand on the market, make sure they can be obtained with contracts, calculate the average float of your input items, etc. If you make a mistake in your calculations, you risk losing profits. How to avoid this? Read the next section of the post!
Can I earn money on craft?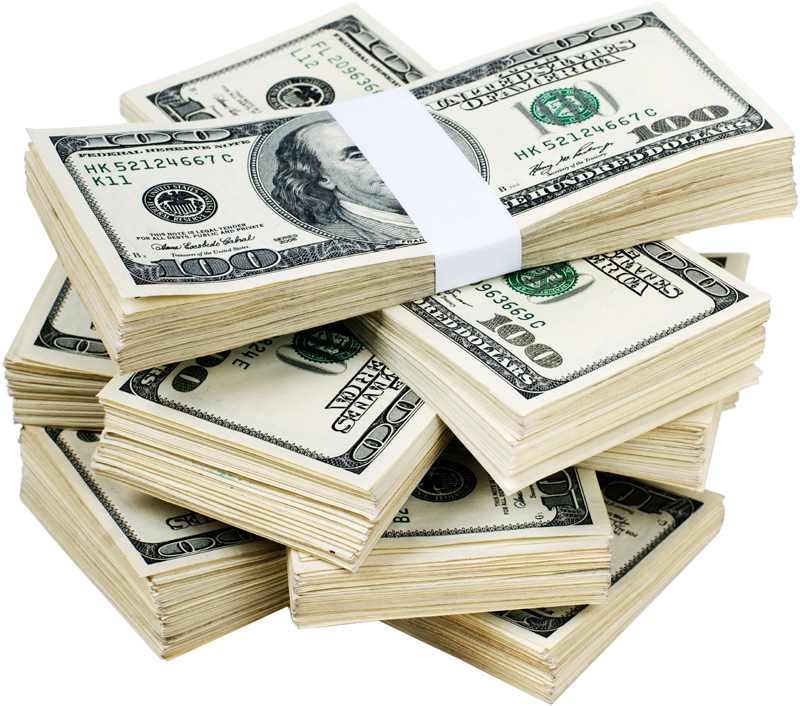 Yes, you can. This is possible when the profit from the sale of the outcome skins exceeds the cost of the input items.
There are two ways to sign safe and profitable contracts. The first one is hard. In your free time, you explore dozens of collections, calculate the exact float of outcome skins, and deal with other issues related to the weapons exchange. These activities can drive anyone crazy!
The second way is much easier. You go to a site like this. The next step: you enter the name of the skins to exchange in the search form. Then you click on the weapon and add it to a special calculator. When you select the required amount of war tools, the online service will automatically determine the potential rewards and calculate their floats.
We got the result that you see in the image in 15-20 seconds. We just clicked 10 times on the AK-47 Baroque Purple on the left side of the screen. We didn't have to look for which collection the weapon belongs to, calculate the float, and do other boring things. We got all the information we needed in the shortest possible time.
In addition to saving time, this method has two more advantages. Using special online services protects you from possible mistakes and allows you to experiment with combinations of various skins. As a result, it's easier for you to make a profit when you intend to sign another contract for "remelting" your weapons.
Which tactics should I use to make profitable contracts?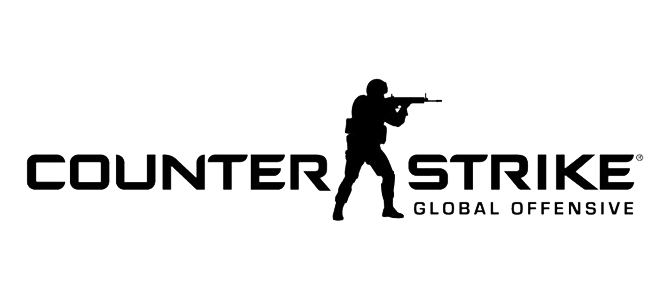 Combine different weapons
During the weapon exchange, you can use various items. It can be a combination of cheap and expensive war tools. Using such a strategy sometimes saves you money when you buy input skins.
Select items with the same stats when possible
By doing this, you minimize the chances of getting weapons that you don't need. It will also make your crafting more predictable and therefore profitable.
Aim for Factory New skins
They're often sought after by collectors. Moreover, most exchanges are simply unprofitable if instead of Factory New skins you get items with higher floats.
Always use online services before making every exchange
This tip is especially relevant when you want to obtain an expensive skin. Online services will help you to avoid unpleasant situations and wasting your money.
Read our blog regularly
Our team constantly publishes interesting posts about CS:GO. Many of them are dedicated to skins. Bookmark our blog and read the latest information about your favorite game!
FAQ
Can you trade up to a knife?
No, you can't. You can only get a knife from a weapon case, the in-game analogue of loot boxes, or buy it on the secondary market. The same goes for stickers.
How long do you have to wait to trade CSGO skins?
Skins received as a result of a trade can be sold seven days after the player gets them. This is how the game developers fight against fraud. We wish them good luck in this difficult task.
Can you trade up Tec-9 Red Quartz?
You can't. The Tec-9 Red Quartz belongs to The Train Collection and has the max weapon grade (Restricted). The quality of the outcome item must be Classified. It's impossible.
Dear friends, if you want to add a unique skin to your collection, there is an easier way than Default Contracts. Win it on
PLG.BET
! Exchange your unnecessary items for our coins and try your luck in exciting gambling games –
slots
,
coin flip
,
dice
and
crash
. We're sure that Fortune will favor you and give you exclusive CS skins!